Students at Helping Hands Christian Preschool in Goshen, New York were hard at work for the month of May participating in Hailey's Hope Foundation's Nickels for NICU Babies fundraising campaign. They collected nickels and other coins to raise money for families with babies hospitalized in the Neonatal Intensive Care Unit (NICU) at the Rowley Birthing Center at Orange Regional Medical Center (ORMC) in Middletown, New York.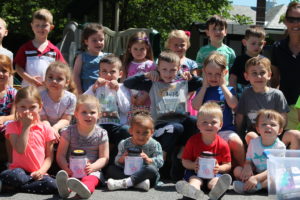 Nickels for NICU Babies is a fundraising campaign that encourages children to help make a difference in the lives of others. Over 80 preschool students raised more than $300 for NICU babies. Students also collected numerous baby supplies such as onesies, pacifiers and washcloths to donate to NICU families. "Hailey's Hope Foundation is an incredible organization that fulfills a great need in our community. This cause is near and dear to our hearts. Many of our families have been recipients of their wonderful support," says Helping Hands Christian Preschool Director, Lori Soutar.
"I am so moved to see how energetic and willing children are to help others in need," said Debra Randazzo, Director of Hailey's Hope Foundation. "They searched high and low for nickels: in piggy banks, seat cushions, parent's wallets, on the playground and more."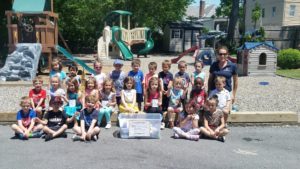 Hailey's Hope Foundation is a local non-profit organization which supports families with premature and critically ill babies in New York area NICUs.  We are partnered with the Rowley Birthing Center at ORMC, the Regional Neonatal Center at Maria Fareri Children's Hospital in Valhalla, NY Presbyterian/Morgan Stanley Children's Hospital in Manhattan and the Bernard & Millie Duker Children's Hospital at Albany Medical Center.  Since its inception in December 2007, Hailey's Hope Foundation has raised over $1,500,000 and provided support to over 5,000 NICU families.