Fifth Annual Dinner Auction Fundraiser
Palacio
Saturday, September 7, 2013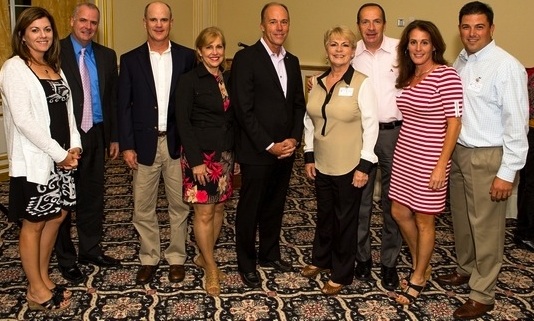 [L-R: Jennifer and Jerry Dunlavey; Brian and Valerie Rivenburgh; Richard Rowley; HHF Board Members Ann Siegel, Marvin Siegel and Debra Randazzo, and HHF Founder and President, Jeffrey Randazzo]

Over 145 guests joined Hailey's Hope Foundation at its Dinner Auction Fundraiser on Saturday, September 7, 2013 at Palacio in Goshen, New York to celebrate its five-year anniversary supporting NICU families.  The event raised over $32,000 to benefit families with premature and critically ill babies in Orange Regional Medical Center in Middletown and other New York area Neonatal ICUs (NICUs).  Please view the evening's Online Reception Journal here.

It was a beautiful evening as guests enjoyed great conversations, entertaining music and delicious food and drinks.  President, Jeffrey Randazzo, reflected on the successes of HHF and highlighted its plans for the near future.  One of the evening's memorable moments was the introduction of The Bruno Family from Chester, New York — the 1,000th NICU family helped by HHF.  Katie Bruno shared her family's remarkable story of overcoming heartache and tragedy to celebrating the birth of their premature son, Dominic. Her emotional story touched the hearts of everyone.

Many local sponsors generously supported the event, including Participating Sponsors, Rowley Development Corp. and the Rowley Family, and Guest Gifts Sponsor, The Pucci Family.  The businesses and families who graciously donated auction and raffle prizes and advertised in HHF's online journal, greatly contributed to the success of the event.

We look forward to seeing everyone again at next year's event!