Lilliana – 24 weeks
On June 26, 2012, our lives changed forever.  It was the day my wife and I joined the club nobody wants to join – the preemie parents club.  The day prior, I got a call from my neighbor saying, "Max, you need to come home right now.  There's an ambulance out front, and Sara is really upset.  Not sure what's going on – but come home."
That is how our journey began – a journey of worry, a journey of fear… but most importantly, a journey of hope.  I immediately called my wife, Sara, but she couldn't answer her phone because she was in the ambulance.  Frankly, I don't remember much between the calls and arriving at Westchester Medical Center to find Sara, still pregnant, in Labor and Delivery.  Her due date was October 11th. She was only 24 weeks, 4 days along.  Sara had experienced some difficulties during the pregnancy – I remember her OBGYN had told us a few weeks earlier "the most important thing is to make it to 28 weeks.  Miracles happen at 28 weeks."  But she wasn't there yet.  I was wondering if miracles still happened at 24 weeks.
The NICU doctor tried to prepare us for what to expect in the delivery room, but I was in denial.  The doctors said to expect a lot of tubes, which didn't mean a lot to me until we were rushed to the delivery room – I never thought, in a million years, that the baby would actually come.  I thought micro preemies were just something you saw on the discovery channel.  Our miracle – Lilliana Hope Schlubach, Lily, was born on June 26th, weighing 1 pound 12 ounces.  I wore flip-flops into the delivery room, if that gives you any sense for how well prepared I was for this. Lily's birth hit me and my wife like a freight train.  It ran us over.  Then it backed up, and ran us over again, and again, and again.
After delivery by cesarean, Lily was whisked off to the NICU before we could see her.  The doctors said we could go see her in 45 minutes, once she was stabilized.  An hour passed, then two hours.  It felt like an eternity.  We finally got to see her in the NICU and they told us they had a hard time stabilizing her–she was very sick.  We could touch her, but not move our hands across her skin since it was about as thick as tissue paper. When I first saw Lily, it was very hard to process.  She was so small and her skin was dark since her blood oxygen was so low.  She was on an oscillating ventilator, she had an umbilical IV and a regular IV.  The oscillating ventilator made her chest jiggle unnaturally- like humming bird breaths – but it kept her alive, and it kept her breathing.  Seeing Lily for the first time was very difficult for Sara and me.  We sat with her as her doctors tried to prepare us for the NICU journey we were about to begin.  It would be scary, it would be the most difficult and heart wrenching period of our lives.  Boy were they right.  The doctors told us Lily had a 50% of survival, and if she did survive, an 80% chance of developmental delays.  I told myself Lily isn't a statistic, she is a fighter.
I stayed in the hospital with Sara for the first few days.  We were so scared and upset that we barely talked.  These were the darkest days of our lives.  Day four was when I discovered and embraced hope.  Sara was still in the hospital and it was the first day I slept at home. That night, after spending the day at the hospital, I sat out under the stars in the backyard.  It was a warm, clear summer night.  I was a wreck, but, I decided that I would choose HOPE as the path that I was going the follow, and as the path I would try to lead my family down with me.  Hope.  Hope.  Hope.
I kept a blog of my daughter's battle for her life http://prayingforlily.blogspot.com. Every day, I would update the day's events, medications, or procedures.  Lily spent 100 days in the NICU fighting for her life.  She received almost a dozen blood transfusions, a platelet transfusion, two rounds of surfactant treatments, several rounds of antibiotics, a PIC line, three brain ultrasounds, a dozen x-rays, countless other procedures.  And she won the fight!
The cause of her prematurity was a placental abruption, the underlying cause of which we never learned.  Lily was born very, very sick.  She had presumed sepsis and bronchopulmonary dysplasia, but thank God she had no brain bleeds.  Early on she struggled with her red and white blood cell count balance, blood acidity and sodium levels her biggest issues were her lungs.  Since she was born too early to have naturally developed surfactant, her lungs collapsed (in part and in whole) several times despite the administration of artificial surfactant.  Lily showed some improvement, though, and at about 20 days of life she made it off of the oscillating ventilator and onto the standard ventilator.  Then, she developed pneumonia, her lungs collapsed again, and the attending physician told us that she was "now the sickest baby in this NICU.  We are back to day one.  This came right about the time when we though she had made it past the worst of things.
We were scared before, but at this point we were terrified.  Sara and I really thought Lily was going to die. The emptiness had come back – after three weeks of progress, we were back to day one.  Lily was on the highest settings for the ventilator.  There was nothing else they could do – "this is now her fight", the attending told us.  Over the course of the next few days, by miracle and her guardian angels, Lily was able to fight off the pneumonia with two antibiotics.  For the second time, the miracle workers saved her life! She began to progress again. Eating a little more, gaining an ounce here and there. The next several weeks were filled with apneas and bradycardias (episodes where your child stops breathing for 15 to 30 seconds at a time, and has to be medically revived, sometimes with a breathing bag). Scary would be an understatement.
Around late July, Lily made it off of the mechanical ventilator, on to CPAP, back onto the ventilator, then back onto the CPAP.  What a roller coaster it was. Imagine thinking your child is going to die, then 5 days later thinking she will live, then 2 days later being told there is a chance she might not make it. That's what being a micropreemie parent is like. Counting the O's (ventilator settings) – counting ounces, those precious ounces – grow Lily, grow! Eat Lily, eat!
At about 90 days of life, Lily made it off of CPAP and onto the nasal cannula. She then progressed at a remarkable pace – and at 100 days of life, we brought her home.  What a happy day! Easily one of the happiest days I can remember.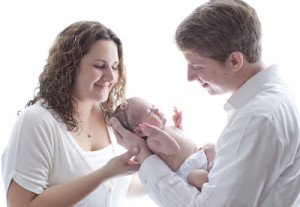 Since her discharge, things have been going well for Lily. She is now 15 pounds and her big sister, Addie, has developed an amazing bond with her. Lily has hit ALL of her adjusted-age developmental milestones – she can hear, she can see, she can track objects, she can smile and laugh and she can grab her toes and roll over – she is a miracle in every sense! There are some muscular tone issues we are watching closely, and we are addressing through physical therapy – PT twice a week, and water therapy every other week. It seems to be working – her legs are much looser, but we are still working on her trunk and back tightness. Lily also has something called benign external hydrocephalus, which is excess cerebrospinal fluid between the brain and cranium. It typically self-resolves by the age of 2 or 3, so we are hopeful there won't be any lasting effects.  At this point, Lily has defied EVERY odd, defied EVERY statistic. She's been through it all – she's fought (and won) every fight.  She's a strong, determined kid. She can do anything she sets her mind to!
Raising a preemie isn't anything someone ever plans on. It starts out scary, even terrifying – and every outcome is different.  My wife and I – our whole family – have so, so much to be thankful for.  Lily is truly a miracle. Looking at her, you'd never know she was born four months early. She's amazing! She had the best medical care – everyone at the Maria Fareri NICU was just awesome. Two doctors in particular, Dr Alpin and Dr Uduak, played huge roles in saving Lily's life. The NICU nurses, all of them, were nothing short of miracle workers.  Sara and I were fortunate to have an amazing support network – our family, our friends, even strangers helped us through it – from things like dinners, to babysitting, or even just giving us an open ear to talk. Because of my blog, people from all over the world let us know we were in their thoughts – and thousands of people all over the world were Praying for Lily. The support of strangers during a time like that was touching, and amazing. It helped keep my wife and me going.
Hailey's Hope Foundation helped us out throughout Lily's NICU stay – I can't thank the donors and everyone at HHF enough. Donors should know that their generosity directly impacts the lives of local parents, and helps them through the most difficult period of their lives. Thank you!