HAILEY'S STORY
January 3, 2003 was a day that changed our lives forever.  It was the day that we welcomed into the world our first beautiful baby, Hailey.  But born too soon, it was also the day that God gained an angel.  Nothing can prepare a parent for losing a baby.
This was my first pregnancy.  The first five months went smoothly and without a hitch, until I reached 21 weeks.  I began to have intense gas pains, which came and went.  A few days later, the pain intensified, and it became increasingly difficult to breathe, sit, stand and lay down.  I no longer believed these were just gas pains…something was wrong.  That night, I called my doctor and he advised me to get to the hospital for some testing.  Testing turned into a hospital admission, and within hours our worlds came crashing down.
An ultrasound revealed that Hailey was perfectly healthy, but other tests confirmed that I was incredibly ill and my condition was worsening by the hour.  I had developed a very severe case of HELLP Syndrome (Hemolysis Elevated Liver Low Platelet), a life-threatening complication and variant of preeclampsia, suddenly and without the typical warning signs.   This not only threatened Hailey's life, but mine too.   I knew the seriousness of this illness because my twin sister suffered from HELLP Syndrome while pregnant 2 years earlier at 28 weeks gestation, but we had no idea that it could strike us as early as 21 weeks.  My liver enzymes skyrocketed and my platelet levels were falling fast.  In what seemed like one quick breath, my doctor told me that in order to save my life, they had to deliver Hailey immediately by emergency C-section.  Then came the words from our doctor that no parent should ever have to hear:  there was no chance for our baby's survival.  As my doctor and nurses rushed around to prep me for surgery, I cried hysterically.  A day in which I thought I would be simply poked and prodded for a couple of hours turned into a nightmare come true!
Shocked and devastated, my husband, Isaac, and I were then bombarded with questions which nothing can prepare expecting parents for:  Would you like to hold your baby although she isn't expected to live long?  Would you like to baptize your baby?  Would you like to speak with a priest?  Do you want the hospital to handle burial arrangements?  The tears would not stop.
Among all the pain, we found a guardian angel in our Labor and Delivery nurse, Jeanne Van Sciver.  She went to unbelievable lengths to comfort my family and take care of Isaac and me.  Isaac and I couldn't handle the questions we were asked.  Jeanne held my hand and guided us through.  She gave us such great advice and assistance, especially when it came to holding Hailey.  What may seem to others as an obvious answer, in those moments we were not thinking clearly.  In my condition, I struggled with this decision, not knowing if I could handle holding Hailey then letting her go.  We didn't know how long Hailey would live.  Jeanne did.  She knew that I wouldn't wake from general anesthesia in time to see Hailey while she was alive.  Rather than cripple us further with that fact, she encouraged me to hold Hailey.  It was the best decision I ever made and had I chosen differently, I would have regretted it forever.
Hailey was born on January 3, 2003 at 21 weeks and weighed only 12 ounces.  She survived for a few minutes, clinging to life.  Isaac held Hailey, and while resting comfortably in his arms, Hailey took her last few breaths then passed away.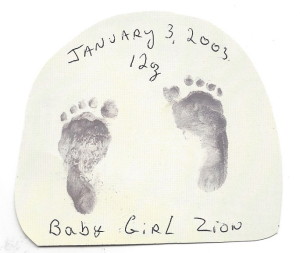 Because I was under general anesthesia, I never got the chance to experience Hailey's birth, or to see or hold Hailey while she was alive.  After I finally awoke, Jeanne wheeled Hailey's bassinet into my room.  Jeanne had swaddled Hailey in a beautiful baby blanket and put a pink hat on her head.  Sobbing uncontrollably, I held my baby girl so tight and close to my heart.  For those few precious moments, I felt an incredible and indescribable sense of peace…divine intervention…and at that moment I knew that Hailey would be ok.  For this, I am forever grateful to Jeanne.
The anguish I felt when Hailey left my arms was excruciating.  I knew she was never coming home with us and I would never hold her again.  The guilt of thinking I caused the death of our beautiful baby girl consumed me.  I kept thinking about what I had done wrong, what I didn't do, what I could've done.  I just cried.  Having to remain in the hospital's maternity wing to recover from my c-section and listen to the cries of babies in the nursery for three more days was torture.  When I was finally discharged and had to leave the hospital with the scars of my c-section but not our baby girl, it felt like someone plunged a knife even deeper into my heart.  Just before we left, Jeanne handed me Hailey's tiny hospital bracelets, baby hat and a few photos she took of Hailey when she was born.  Soaked in tears, I clung to them for dear life all the way home.
The days and nights that followed were incredibly long and hard.  Eventually, with the love, support and patience of our family, friends, and a local bereavement group, we got on a path of healing.  On my actual due date, Isaac and I held a beautiful memorial service at the beach for Hailey.  Our priest said a few prayers, we read a few poems then threw red roses into the ocean.  Up until then, we hadn't decided on a name for our baby girl.  It was there that we gave her the name, Hailey—like Haley's Comet, Hailey's presence on earth was brief, but she left an unforgettable mark on our lives.  "Hailey" was the perfect name for her!
On what would have been Hailey's 5th birthday, our family and dear friends, Sue and Dave Decina, gave us the gift of a lifetime.  They had been secretly working together for months on a project to create a foundation to honor Hailey's memory, to pay tribute to all of our NICU babies, and to help other families who are suffering through the NICU.  They named it "Hailey's Hope Foundation".  This touched our hearts so deeply and we can't thank them enough for this precious gift.  There is truly no better way to celebrate Hailey!
Today, Hailey has a younger sister Alence, and two younger brothers, Jake and Kaden—they were also born prematurely and spent a combined 11 ½ weeks in the NICU.  When her sister and brothers get older, I will tell them how truly heroic their big sister Hailey was.