POST EVENT PRESS RELEASE
FOR IMMEDIATE RELEASE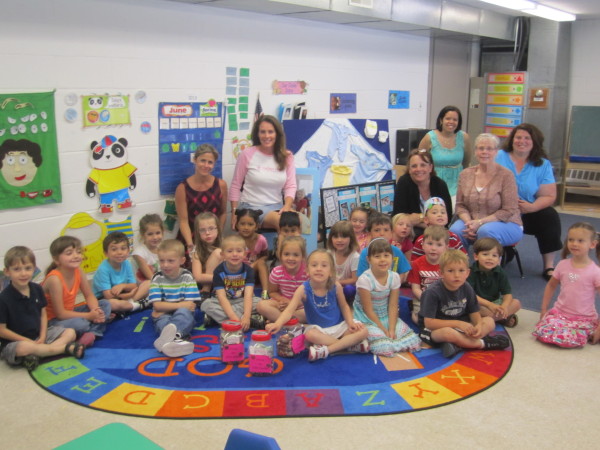 HELPING HANDS COLLECTing NICKELS FOR NICU FAMILIES
(Goshen, NY- June 10, 2012)  For two months, preschoolers at the Helping Hands Christian Preschool in Goshen collected nickels to help raise money for families with babies hospitalized in the Neonatal Intensive Care Unit (NICU) at the new Orange Regional Medical Center.  The Nickels For NICU Families fundraiser was launched in conjunction with Hailey's Hope Foundation, a local nonprofit organization that supports NICU families.  More than 100 students helped successfully raise more than $500 (in nickels) and collected baby-friendly items, including diaper bags, blankets, pacifiers and onesies.
"Hailey's Hope Foundation is an incredible organization that fulfills a great need in our community," said Lori Soutar, Helping Hands Christian Preschool Director.  "This cause is near and dear to our hearts, as one of our current families has been facing a lengthy NICU journey since December 2011."  "It's wonderful to see the children so excited to help others," said Debra Randazzo, Board member of Hailey's Hope Foundation.  "They have searched high and low for nickels: in piggy banks, seat cushions, parents' wallets, on the playground, and more."
Since its inception in December 2007, Hailey's Hope Foundation has raised more than $400,000 and provided support to over 800 NICU families.
About Hailey's Hope Foundation
Hailey's Hope Foundation was established in 2007 to support the needs of families with premature and critically ill babies hospitalized in New York-area Neonatal Intensive Care Units (NICUs) and to help improve the quality of NICU care.  In addition to providing NICU families with financial assistance for non-medical expenses, emotional support and educational information, Hailey's Hope Foundation works closely with NICU staff to understand families' needs and raises funds for NICU equipment and neonatal research.   Its programs and initiatives strive to help families cope with a difficult NICU journey, empower them to help their babies get better, and to give NICU babies a greater fighting chance.  Hailey's Hope Foundation is a 501(c)(3) nonprofit organization based in Goshen, New York. To learn more, visit www.haileyshopefoundation.org.
CONTACT:
Donna Zion
Vice President, Hailey's Hope Foundation
Phone:  (914) 584-8833
Email:  info@haileyshopefoundation.org
# # # #