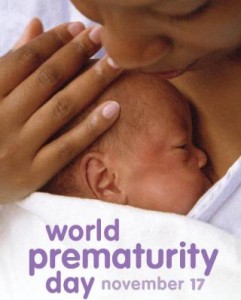 Today marks the beginning of Prematurity Awareness Month and the countdown to World Prematurity Day on November 17, 2014.  This is a special time when people join together to raise awareness about the serious problems in the birth and development of premature babies and to celebrate these tiny heroes.
During Prematurity Awareness Month and on World Prematurity Day, Hailey's Hope Foundation will be sharing stories, photos and information to help raise awareness and pay tribute to preemies and families touched by a premature birth.  Please join us!
 HOW YOU CAN PARTICIPATE:
 "Like" our Facebook page and tell us who you would like to honor;
 Share your story and photos on our website at www.haileyshopefoundation.org to help inspire others affected by a premature birth;
 Take a photo of your preemie and family wearing our purple Prematurity Awareness ribbons and post them on November 17th on our Facebook page (or email them to info@haileyhopefoundation and we'll post them).  Contact us at info@haileyshopefoundation or (914) 584-8833 to get the ribbons.
 Donate online to Hailey's Hope Foundation in honor of someone whose life has been touched by premature birth and to help us continue to support preemies and their families in the NICU.
THANK YOU FOR HELPING SPREAD THE WORD!